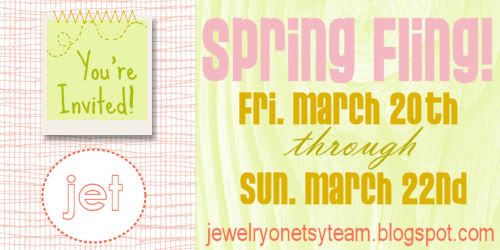 Jet Spring Fling Officially starts tomorrow!!!
My fellow JET team members have so awesome sales going on!
DASHERY
FREE SHIPPING in the US and Canada
FREE CIRCLE SHELL EARRINGS with order over $25 and
SPECIAL SALE SECTION of up to 50% off
15% off one jewelry item, 20% off two
Michon
Free gift with purchase, plus free shipping on orders over $25. Use code "fling" at check out.
CrystalImpressions
Be sure to visit MY SPRING FLING SECTION for huge sales for these 3 days!
25% SPRING FLING SECTION....PLEASE
CONVO
ME for price adjustments!!!!!!
3squares
I'll be offering free world-wide shipping on all items in my shop this weekend.
ErikaPrice
20% discount on all
jewelry in my special JETS SPRING FLING section. Plus FREE world-
wide shipping, and all profits from my jewelry sales donated to charity!
AdroitJewelers
Buy one get one 1/2 off
OVGILLIESDESIGNS
FREE postage on all items in the

SpRiNg

fLiNg

section & any from any other section ordered at the same time (all items to be sent together). Plus a FREE pair of the lovely BLUE LAKE earrings with all orders over $50. (BLUE LAKE earrings option is provisional at the moment as I'm in the process of getting more beads.) All orders made during the Fling Weekend will be sent out on Monday-Tuesday.
MonkeyBuns
25% off my Spring Fling Sale Section